Jogini Waterfalls Blog
(The Jogini waterfall trek Manali )
Jogini Waterfall Manali is famous for its location and natural beauty, tourist can also enjoy thereby summing at Jogini Waterfall Manali pool formed by natural Stones.
 My Journey To Jogini Waterfall
I started my journey to Jogini Waterfall Manali from Mall Road Manali ,As i love to walk around mountains so that's why i opt for walking to Jogini Waterfall Manali  from Mall Road Manali
Distance From Mall Road Manali to Vashisht Is 4Km
From Vashisht Temple to Jogini Waterfall Manali Is  3km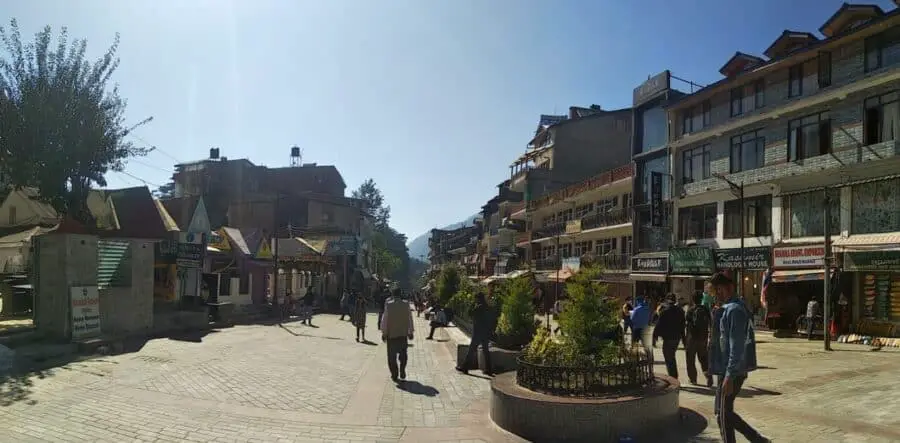 But from Manali Mall Road You Have a lot Of Transport option to Vashisht Temple ,but from you have to trek till Jogini Waterfall Manali
By Cab it may cost you around Rs 500 from Mall Road Manali to Vashisht Temple , You can also go by Auto Rikshaw Which Cost You Rs 150 For One way Till Vashist
But  if you have time and love to walk then you can go by walking and enjoy a roadside view of Beas River with amazing surrounding's
When i reach to Vashisht Temple than i purchase some snacks like Chips ,Coke or Biscuits and a water bottle for sure with me because you can't get anything at the top of Jogini waterfall
Also Read Kasol Trip In December
At Vashisht temple take a break and enjoy vashisht temple and Get Refresh in hot water kund at Vashist Temple , Have Some Local Dishes Enjoy with some shopping at Vashisht Market You find alot of Unique Items at vashisht temple Market.
So After enjoying Your Journey till Vashisht Temple Start Your Trek from Vashisht temple to Jogini falls,
As same i did , After taking a break at Vashisht temple i started my journey from Vashisht temple to Jogini falls
Distance From Vashisht Temple to Jogini Waterfall Manali Falls Is 3Km . There Is only One Way to reach Jogini waterfall from Vashisht Temple i.e by Trek/walk No other transportation medium is used  as like Anjani Mahadev Temple where you can go with mountain bikes or horses
You can have a look of the Route from Vashisht temple to Jogini falls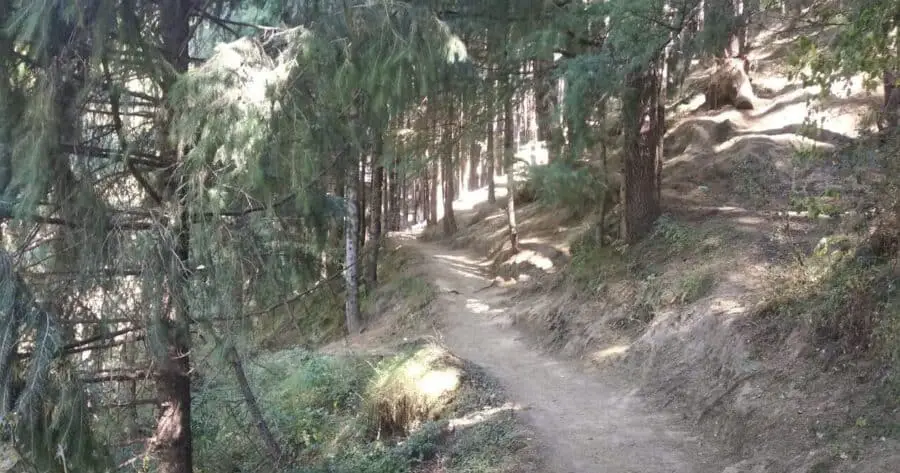 Vashisht temple to Jogini falls Route of Way offer's you a peacefull walk towards the hill top of jogini waterfall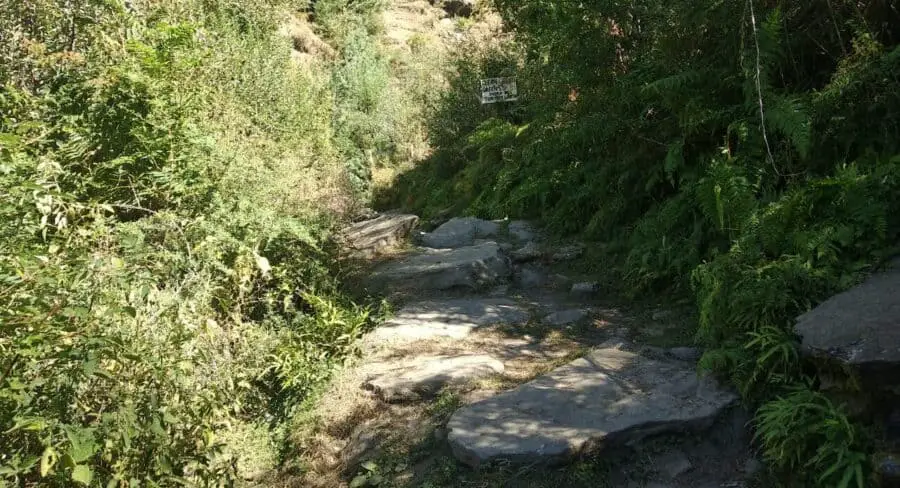 After Continuou trekking towards jogini waterfall you will reach at Yogini Mata Temple before reaching at the top Hill's of Jogini Waterfall
Amazing View of Yogni Mata temple from Top Hill's
Yogni Mata Temple is Very famous Among Locals , Many of tourist also visit Yogni Mata temple during their Trek. After Yogni Mata temple you find some people there trying to sell Fruiti ,Snacks .So Lets Continue your trek and enjoy surrounding view of a beautiful forest, You can also plan a picnic with you friends and family in the forest .
But not to forgot to clean all you rapers of snacks n all.
When you get on top of the trek don't forget to take a dive into the natural pool at Jogini Waterfall Manali to refresh you body and soul.
After that find a place from where you can see a perfect view from the midway of Jogini Waterfall Manali and enjoy the Snacks you carry with your friends or family  at top of the mountain , the jogini waterfall trek in december is give you same joy like Kasol in December.
Than start the trek you have to trek around 1.5 km from Yogini Mata Temple to reach the HillTop of Jogini waterfall 
As per my experience ,I am definitely sure the you love the amazing waterfall with the beautiful Rainbow , At The top of Jogini Waterfall you love to see a very beautiful Rainbow that is created by the nature to add an another beauty at Jogini Waterfall , You can enjoy the Jogini waterfall trek like you enjoy tosh to kheerganga Trek.
Here's the Amazing View's of Jogini Waterfall you can enjoy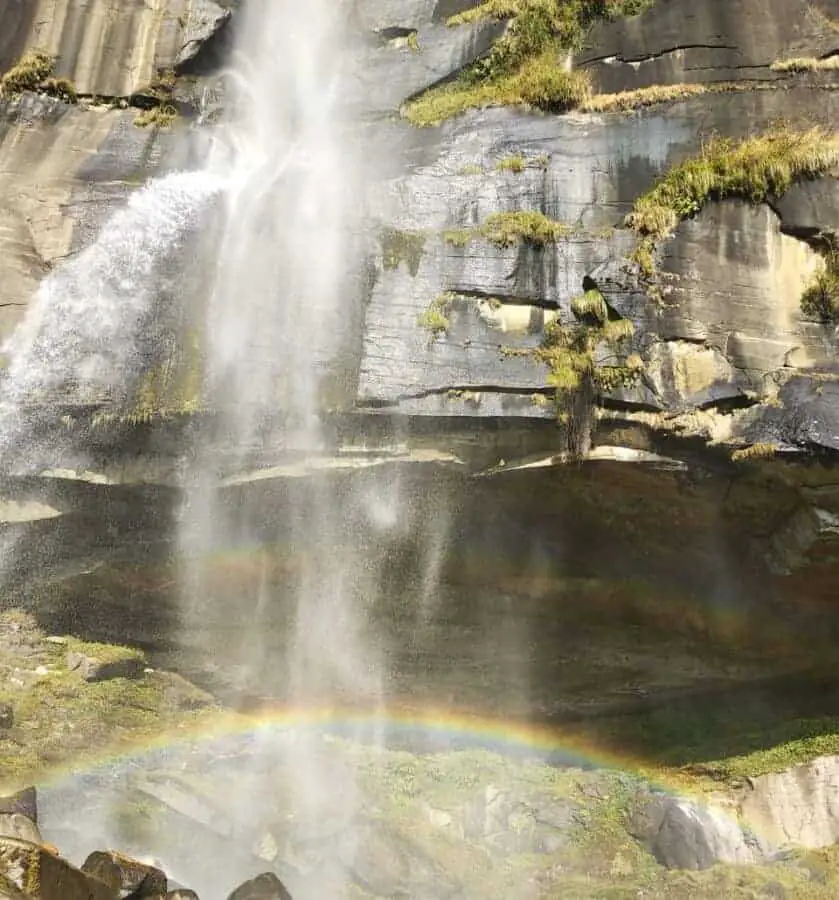 Jogini Waterfall Trek Travel Tips
As you get to know that you can only go Jogini Waterfall Manali by walking. so Must have to take water bottel with you to stay hydrated during trek .
Also Read Jibhi Travel Blog
Also there is Some Restaurant during your way to Jogini Waterfall Manali but all of them are expensive, so its better to take snacks with you like Fruit, chips , or anything you want
Also Start your trek in day time so you can get back to your hotel before Night
Best time to visit jogini waterfall
As per My Experience, Best time to visit Jogini Waterfall Manali is during April-May. Because in this time the place in not that much crowded and you can spend quality time with your friend and family, and the weather is also not that much clod so you can easy enjoy the natural pool at Jogini Waterfall Manali
Start Your Trek From vashisht Temple
Lets start Your Journey or trek to Jogini Waterfall Manali from vashist with your friends and family . You can find some small cafe during your treak to have some tea and snacks . The whole Trek is surrounded by apple garden , so during month of Oct-Nov you find a lot of apples around you. Also you find some home stay or hostel during you stay . you can also book one of them to stay for a night there and enjoy Jogini Waterfall Manali trek and also nearby attractions.
Also Read A Complete Manali Trip Guide
Jogini Waterfall trek time
As per my knowledge there is no perfect or fixed jogini falls timings for treking , you can plan your trek when ever you want but its always good to start your trek around 9:00 at morning so you have a full day to enjoy the amazing view at the top of jogini waterfall
Note:- Don't stay at Jogini Waterfall after 7:00 PM just because the trek is covered by forest so its better to came back to your hotel early as possible
Aslo Visit Van Vihar Manali just Go and Relax by taking a ship of tea and watching Bird
If You like do share with you friends and family
Give Suggestion at Contact Or Just By A Comment